STEP1Planning Select from a varied training menu
Select the training assist screen from Cyclo-Sphere on the iPhone.
Confirm training goals and method on the iPhone screen.
A training menu (beginner training, beginner power training, beginner pedaling training) based on scientific principles will be shown using easy to understand pictures and text.
Goal values are calculated based on your weight set on the Cyclo-Sphere, and can be customized.
Have lots of training menus on your SGX-CA500 and select between them as necessary.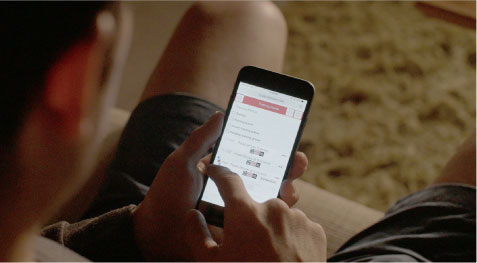 Training Menu Example
Beginner Pedaling Training "Basic Pedaling being aware of 6 o'clock"
Required device: SGX-CA500, SGY-PM910H2/910H/900H series, either iPhone 6, 6 Plus, 6s, or 6s Plus (latest Safari)
Goal
Introduces training to reduce most commonly wasted energy in pedaling.
The main point is to be aware not to step down at the 6 o'clock position, and to quickly reduce downward pressure used until the 3 o'clock position. Experience a technique that lets you use your maximum power continuously over long periods by reducing wasted energy.
Method
Maintain a set cadence at a medium power level, one you can sustain for about an hour. Be aware that the greatest power output is possible when the crank is at 3 o'clock, start pushing at 1 and 2 o'clock, then make sure to reduce pressure at 4 and 5 o'clock so you don't continue pressing.
Cyclo-Sphere Display Example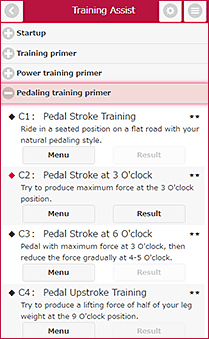 Training Menu
Selection Screen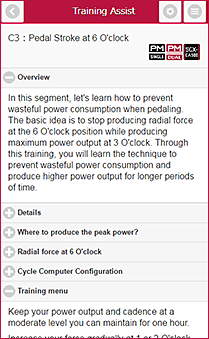 Training Menu
Instruction Screen (Goal)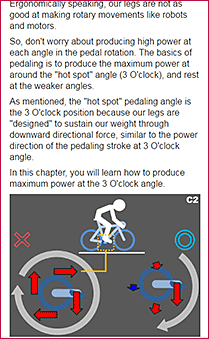 Training Menu
Instruction Screen (Method)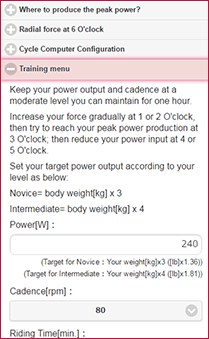 Training Menu
Goal Value Display