Over 100 types of data accessible in real time
Pedaling graph, pedaling efficiency, power, balance, distance, speed*, heart rate*, temperature, atmosphere, elevation, gradient, and more.
Over 100 types of measurable data available.
With 16 layout patterns, measurement reporting can be adapted to training, races,
and any other setting in which an athlete might perform.
* ANT+™ standard sensor required.
Data Field Type/Pattern List
■Data fields: 5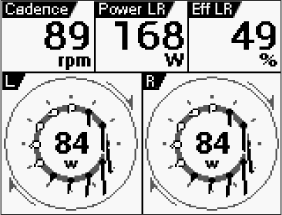 [Display Example]
Cadence
Power LR
Efficiency LR
Pedaling L
Pedaling R
■Data fields: 6
[Display Example]
3s.Avg Efficiency LR
Balance L:R
Lap Avg Cadence
Lap Max Heart Rate
Lap Avg Power
Lap Time
■Data fields: 9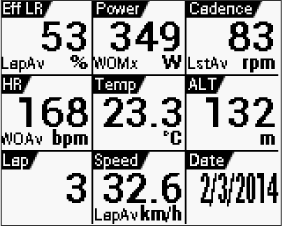 [Display Example]
Lap Avg Efficiency LR
WO Max Power
Last Lap Avg Cadence
WO Avg Heart Rate
Temperature
Altitude
Lap Count
Lap Avg Speed
Date